Hello, My name is Jody Heath. I am a full time registered critical care nurse in Southern California and internet marketer with a home based internet business originating in San Diego, California. We are a direct sales company offering world class internet marketing and educational products; we also have an ingenuitive, replicable, and proprietary affiliate marketing mechanism for massive income generation.
Yes, the membership fees cover the Corporate Abundance Products and teach you how to market online like no other! But, once you're in, you are also admitted to our private Facebook group packed with tons of proprietary educational and training materials. The Facebook training materials alone would be worth the cost of the membership; but there is no additional cost to be in this private mastermind group.
Another benefit with Neucopia is its community aspect. Let's face it, if you were to start out on your own, there are probably six to eight corporate giants in this genera of home based business and MLM-like opportunities (although, we are not MLM; nor do we want our people working that hard). By being part of a community like this, you can save yourself a lot of heartache and a lot of money. Do you really want to go out on your own and invest in every single home based business program, just to test if it works?
Of course not, you could go broke doing that, as many have! It's much better to be part of a close-nit internet marketing community "willing" to share their experiences about what they have tried and what worked the best. I have found that here at Neucopia; and it's a wonderful thing when we can learn from the mistakes of others and avoid difficult history repeating itself on our time! E.g., much of this blog content is based upon the experiences of others in our group (specifically, thank you Jerry M, Aron Parker, and Chris B).

"Empower versus Neucopia: this is why I promote Neucopia and not other programs such as Empower"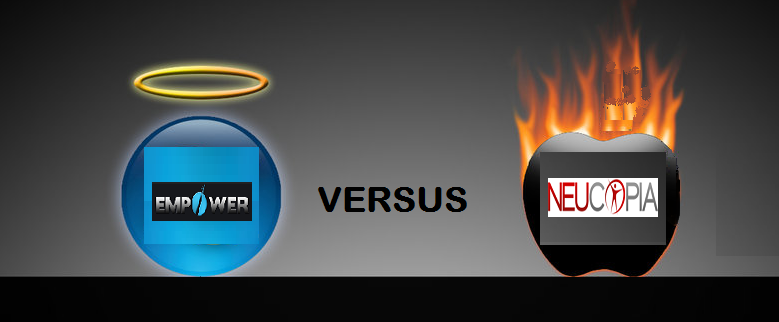 They were banned from Facebook. At this time, I cannot send an Empower link thru my Facebook account. Yes, last night (February 25, 2013), I tried to send a link to my sponsor to discuss team security. It happened to have the word, Empower, in a link; and Facebook literally blocked the whole message.
YouTube has been shutting down accounts simply for having Empower mentioned; I have even removed some of my YouTube tags such as: Empower vs Neucopia
Yes they have 70,000 members; it's good, but somewhat saturated. It can make marketing Empower Network very difficult when so many have seen it before. Since it is somewhat saturated, people will always think, "Why should I join you when I can get this and that from that other person"?
They charge 8% merchant fees and you are NOT paid weekly; therefore, this makes it very hard to pay for advertising when you have to pay merchant fees and wait longer than a week for your commissions.
People do not like being called a wussy simply for not going all in when they cannot afford it.
Their marketing has you believing you're going to be rich and successful simply by joining for $25, when the $25 blogging product is just to bring you in to spend more; not good.
The name calling "wussy" does not stop until you have bought the $100 product, $500 product, the $1,000 product, and finally the $3,500 product.
Empower Network does NOT have Our Neucopia Power Team.  The Neucopia PowerTeam (our private Facebook Group) has some of the most charismatic and cutting edge marketers willing to share and disseminate their knowledge via Google hangouts, FB, and Skype; and yes, we still speak on the phone with our prospects and team members! The Power Team is a huge deal (it's about building relationships and changing lives)!
"Neucopia versus Empower: The Previous list of 8 items touched mostly on Empower.  The following 8 items point out why I am promoting Neucopia over Empower Network"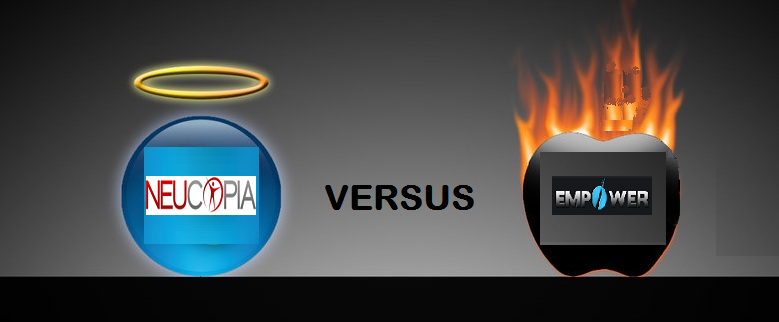 Neucopia has "zero" problems with Facebook. Yes, I do paid advertising on Facebook with no issues.
We have no issues with YouTube. My account is 100% Neucopia and I have no issues whatsoever.
I'm not sure exactly how many active members we have (somewhere around 1,000 though). This (Neucopia) is still considered a ground floor opportunity; therefore, as we grow to 50,000 members and beyond, those people have to sign up with someone; might as well be you or me.
We charge zero fees. If you make a $200 commission, you get the "full" $200 deposited to your checking account, prepaid debit card, or paper check the following WEEK; you decide.

We are professional individuals from a wide range of professions, from Walmart all the way up to higher status professions as Doctors, Lawyers, and corporate CEO's. But you will never hear one shred of disrespect or devaluing of a human being from our mouths; we are all professionals. And yes, many of us will become millionaires; but at the core, we care about "people" and we are here to build people up–not knock them down.
Our marketing is realistic and we offer no magic potions. What we do offer is a mechanism to wealth; you just have to provide power and flip the switch.
There is no continuous upselling. We have two product levels.  There is no more upselling; and after you are qualified, you only need to recruit one new premier membership per month or retain 2 premier memberships in your pay team each month to cover the cost of the program.  But even if you stay at the lowest level, you can still see positive cash flow and learn an enormous amount about internet marketing and social media leverage; and you will still never be referred to as a "Wussy".
Just the wealth generation knowledge contained within the PowerTeam, itself, could justify the cost of the program; but there is so much more. And yes, the support here is immense; you will have resources and people to contact who will actually do 3 way telephone calls with you and your prospects. You will have people you can ask questions and get advice from; yes, you will have a mentor! And if you need it, you will have someone to hold you accountable and encourage you when times get tough; and they will at some point. Or if you are more of an independent marketer, we'll give you your space. You're in charge of your business and how you want to build it; we  are just here to help when you need us.
So if you are considering Neucopia vs Empower, you have to ask yourself if you have enough information to make an educated decision? I think so! And while it's my opinion, it's an informed one: Neucopia is simply a better business model. It has the innate capacity to make people anywhere from a few hundred per month to $50,000 or more per month; it just depends on you, your background, and how fast you choose to grow it.
Please take the Neucopia tour; then give me a call (714) 253-7649 and let's talk.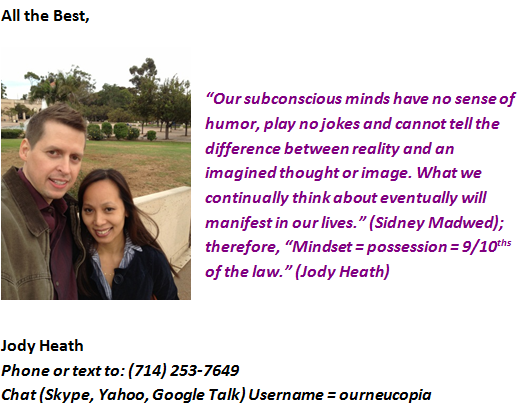 Facebook comments are for questions and comments about Neucopia are appreciated. You can also use the official WordPress comment section, below, where it says, "Leave a Reply"; but all comments are greatly appreciated!:)
Please Like Us: