Hello, My name is Jody Heath.  I am a full time registered critical care nurse in Southern California and a part time internet marketer with Neucopia, a home-based internet business based in San Diego, California.  We are a direct sales company offering world class internet marketing and educational products; we also have an ingenuitive, replicable, and proprietary affiliate marketing mechanism for additional income generation.  I was in the process of signing up a new premier member (Justin) last night when I received a phone call from an unfamiliar number; by the way Justin, you were part of this; so with your permission, I'll link this post back to the Neucopia page of your choice and hopefully drive some traffic to you.
The best leads/prospects in the world are those which take the time to read your marketing and call you on their own volition.  So you can understand how excited I was to get this caliber of a lead, I will briefly explain how lucrative the Neucopia Compensation Plan is.  It takes two premier sales to become qualified and get into the big money (I am already qualified by the way).  Now, each new premier sign-up earns me $200 income the first week; and over the next twelve months, that new member will net me a total of $1,300; therefore, I look at each new member as having the potential to earn me $1,300 (in the first year alone) just for my helping them become successful with Neucopia and replicate what I have done.
When I help that new person recruit two new members, I'll make another $1,300 from each of them (2 x  $1,300 = $2,600).  If each of those two new members recruit two more, I'll make $1,300 from each of them as well (4 x $1,300 = $5,200).  When each of those four get two, I'll make $1,300 from each of them (8 x $1,300 = $10,400).  This sequence can go on multiple levels deep and wide to infinity.  But for illustration purposes, I'll stop here.  Therefore, $1,300 + $2,600 + $5,200 + $10,400 = $19,500 is what I could make from just one lead and just helping everyone get two new signups and getting them qualified.  But it could easily enter into the 100's of thousands of dollars depending on how wide and how deep you want to this.  And I only talked about the first year; you earn residual income to perpetuity as long as your prospect stays active;  and that's just stemming from one person.  So now you have a perspective of how excited I get every time I receive a new high quality lead of this caliber.

Now, remember I was in the process of already signing up a new member via Facebook chat last night; and when I answered the phone, I thought I would hear the new premier member's voice on the line.  No, the voice was coming from a person I had never met who had found me on my blog.  His name was Eric (by the way Eric, you inspired this post; therefore, when you sign up next week–and with your permission–I'm going to link this post to the Neucopia page of your choice as well and help drive traffic to you.
Eric proceeded to recite different blog posts and links from my blog, and told me how big of a deal our compensation program was to him.  You see, this is the first and only affiliate program I have ever gotten in.  But I have heard details of other plans (I even researched other programs before joining Neucopia); and the details of their pay plans were often cumbersome, complicated, and slow in paying.   Eric had witnessed some of those annoyances first hand; he was a bit disillusioned with the current venture he was in.  Honestly, as far as programs go, Eric is in a good program.  But he's smart because he recognized something that Neucopia does better, in terms of professionalism, personalization and compensation.
And then the epiphany hit me: some times when we are talking to prospects, we don't realize the impact of what we say.  It's often difficult to put ourselves in our client's shoes and perceive what really inspires them.  Well last night I had the opportunity to do just that.  Because last night, as me and Eric spoke, I realized I had, in part, taken for granted exactly how special our pay plan is at Neucopia.  I listened as Eric pointed out the various details of our pay plan which inspired him.  And I realized something; I had taken certain subtle and not so subtle nuances and benefits at Neucopia for granted.  This is especially true when you compare it to what is available in other companies of the same genera (affiliate marketing and direct sales programs).
So what was it that got Eric so excited?
Well first of all, I answered my phone.  Sometimes when your clients call you, it's not about what you say.  They just want to understand you are being real with them and you are going to be there.  I don't want to ever become so big that I cannot interact with my colleagues and provide that personal touch.
We have only a two pass-up model.  Yes we pass up our first two signups to our sponsor, but after two, there are no more pass-ups.  And even on the pass-ups we are still making a 10% match on all their premier derived income.
We never ever have to deal with merchant accounts.  E.g, when we earn a $200 commission (yes we earn $200 for referring other premier affiliates to the program).  We get the full $200 paid to us.  Doesn't matter if we are in the USA, China, Canada, or anywhere else in the world.  There are zero fees.
We get paid fast, weekly, and like clockwork.  For all new and residual business produced from Saturday thru Friday, we are paid the following Wednesday; and it hits our bank accounts or Payoneer cards the very next day (Thursday).
There are 3 payment platforms.

Paid straight into your checking account (direct deposit).
Paid through the mail via paper check.
Outside the US, our affiliates and colleagues frequently choose to be paid via the Payoneer card which is a type of prepaid debit card.  But unlike many others in the industry using Payoneer cards, there is not a two to five week lag & turnaround; because Neucopia corporate is "prefunding" their account with enough reserves to cover even unexpectedly large payouts.  Therefore, even if you choose Payoneer card method, you will still be paid just as fast as if you were getting paid via direct deposit.  And yes, this option is available to US residents as well.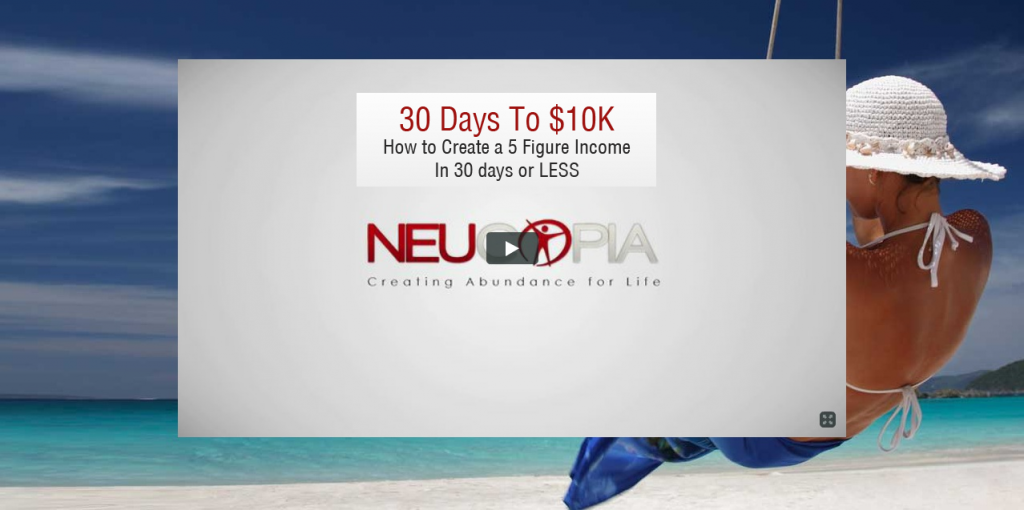 And there you have it.  Beauty is in the eye of the beholder; and, apparently so is inspiration.  So thank you Eric for letting me see what is really exciting people about Neucopia, through your eyes.  And thank you, Justin, for your patience last night as I took Eric's call.  This will no doubt affect how I market Neucopia.  If you would like to learn more about Neucopia and how I can give you one-on-one training to become more successful at online marketing, give me a call at (714) 253-7649 (here are my other contact details).