Well, we are seven day's into New price cuts and compensation plan improvements.  Our Neucopia Affiliate Marketing team  has already added over 50 new members.  One of my signups from Monday has put in 9 or 10 of those members himself.  So it looks like this $49.95 price point for basic level members is being welcomed with open arms and I could not be happier with the results.  While many affiliates are coming in at the basic level, once they really dive in and understand the gravity of Neucopia, they're wanting to upgrade to the Premier level ASAP.
Compensation Plan and price point for affiliate marketing: We have two levels to enter Neucopia, $49.95 (0 signup fees) which pays a $25 dollar upfront commission and $25 dollar monthly residual commission.  Then we have the premier level which runs $169.95 (+ $100 one time signup fee) price point, pays $200 up front commission, and $100 recurring per month. There is only a 2 pass up requirement for the compensation plan, and premier pass ups earn you 10% match on the back end which can be bigger than the front end.  And if you join as a Premier member, you don't have to pass up any basic sales and you get paid from the very first signup.  There are no merchant accounts to set up.  We have no problems with Facebook, and we have no problem getting paid, ever!  Neucopia handles all payments, too and from the company, very effectively.  We are paid by our choice of check, direct deposit, or debit card every Wednesday like clockwork.
And with your membership you get a fully functional Neucopia replicated website and beautifully organized back office.  You get four corporate capture pages and a support team second to none.  And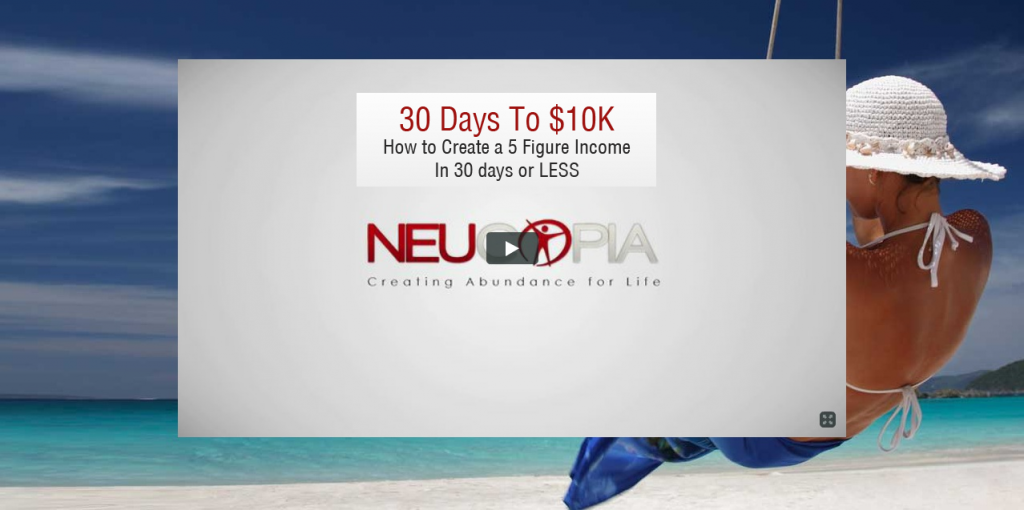 sometime in December, a fully custom, brand new webinar and sales funnel will be launched.  This webinar and sales funnel is going to create so much passive income you're business will be growing exponentially..
I haven't even mentioned the Neucopia Affiliate Marketing and Internet Marketing products.  The basic membership includes, easily, $500 worth of digital products to amplify your internet marketing strategies.  And if you join at the Premier level, you gain access to some of the most sought after internet marketers on the planet.  If you purchased these trainings separately, you would pay well over $5,000.
If you are new to affiliate marketing or internet marking, Neucopia may or may not impress you right away.  But if you are in VT or Empower Network aka EN, or some of the other affiliate marketing programs out there, lookout.  After seeing this, you will know how profound the above paragraph is, and we need to talk.  There are around 1,000 members in Neucopia right now.  The program has only been running since mid summer.  Do you want to join, now, when there are 1,000 members at the beginning?  Or do you want to come in when there are 50,000 members already in the program?  Personally, I like the idea of getting some of those commissions from those 50,000 members; because within the next year, we will be experiencing exponential growth.
One must plate out a healthy dose of skepticism with every Affiliate Marketing Program you come across on the internet.  But in terms of a way to make a true million dollar per year income–and much of it as a passive income–Neucopia is the genuine article.  I'm saying this 100% from my heart, "Joining this company is the best business move I have ever made in my life, bar none"!
I'll be glad to have a Skype conference, phone call, chat, or any other medium you are comfortable with.  And if you are anywhere in the vicinity of Orange County, CA, let's grab a coffee and talk Affiliate Marketing and the kind of profits we are making.
For more information on Neucopia Affiliate Marketing, click on the Picture below, enter your information, take the tour, and I'll contact you.  This is the golden hour and the internet is till the wild wild west.  Let me help you make it happen.