When I joined Neucopia, I knew it had the potential to make me so much money with their affiliate marketing program.  Just the educational information in their digital databases–from SEO (search engine optimization), social media marketing, and lead generation systems–would have been enough just in itself.  And while I saw that vision right away and instantly had an appreciation for what had come into my life, I knew not everyone might share the same affinity due to price point; but I joined anyway, optimistically hoping Neucopia would just lower the membership signup fee just a bit……just enough to lift that barrier to entry for more people.  Well today, another one of my dreams came true; because Neucopia did just that.  Here are some of the details: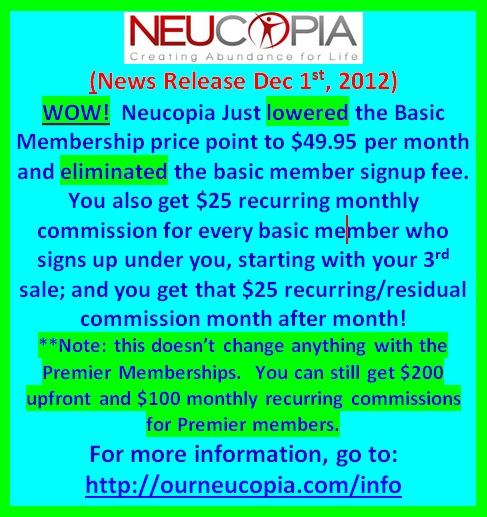 They have lowered the cost to join neucopia at the basic level to $49.95 and ZERO fees. That's right, you pay $49.95 to get started at the basic level and not one penny more.
Neucopia will pay a 10% match on all premier members you (even as a basic member) recruit.

Starting with your 3rd signup, you get $25 upfront for every $49.95 basic affiliate membership you recruit; then you get $25 recurring residual income each and every month for the life of each of your $49.95 basic membership signups.
When we started there were some corporate videos and there is already a fantastic corporate static website.

 

Most of us affiliates used those tools along with our own YouTube videos, websites, and social media to really build up something fast.

 

Well that's about to be amped up quite a bit.

 

Because by about middle of this month (Dec 2012) there will be a state of the art Webinar and corporate sales funnel activated.

 

So what does that mean for recruitment.

 

This is going to be a phenomenal sales tool to really showcase what Neucopia is to mass numbers of prospects.

 

This is going to be the sheer essence of a true passive income model.
**Note: this doesn't change anything with the Premier Memberships.

 

You can still get $200 upfront and $100 recurring commissions for Premier members.


I look forward to you taking the Neucopia Tour.

 

I'll receive a notification from Neucopia after you register; and I'll be 100% available to you for questions and support.

Thanks for visiting my page.