Neucopia is an education system which focuses on teaching income generation tips and strategies, especially geared toward online marketing.  In addition to our phenomenal education products, we have a Neucopia partner affiliate program where you can rack up some huge profits by becoming an affiliate and recruiting other affiliates.
And have no fear, we're not going to have you make a list your warm market (your friends, neighbors, family, and church members) to canvass and bother until people run at the sight of ya.  If you have someone from your warm market who wants to make money online, however, by all means let's introduce them; but it's not necessary.  The internet is full of millions of people looking for ways to make money.  We teach you how to find these people and drive their traffic to your sales pages for instant signups.  And for your leads who need more convincing, I am willing to conduct 3 way phone calls with you and them until you are comfortable selling this system on your own.
<
By the way, Neucopia has one of the simplest and straight forward compensation plans in the nation, but also one of the most profitable ones.  Many experts, in fact, are describing Neucopia to have the most lucrative affiliate compensation plan in the history of the internet. By the way, you don't need a million people.  You don't even need 500.  There are no quotas; but to spark your curiosity–once you qualify–1 premier signup will pay you $200 up front and $100 residual per month.  10 premier signups in your pay team will make you $2,000 up front and  $1,000 residual per month.  100 premier signups in your pay team will pay you $20,000 up front and $10,000 residual per month.  You choose how far you want to take this.

Neucopia is a rock solid company which has up to $200 affiliate commissions, weekly pay, and top-tier residual/recurring monthly commissions, infinite levels deep; and no merchant accts (pays via direct deposit, paper check, or debit card…..you decide)!!  Will train with "World Class Education system"!
This is a year of many corporate enhancements to an already phenomenal line of products.  This corporate compensation video is one of them those enhancements.  It was recently released to help our affiliates close more sales faster.  Please click play and take a look at this short 7 minute video; and afterwards, my contact information is listed above for any questions you might have.  Or view the video from the corporate site to get the full experience.
"How Simple is it? (E.g., Premier Compensation)":

No merchant accounts. Paid weekly via check, direct deposit, or a debit card…you choose.

Give 2 pass-up sales to your sponsor (and no more ever again); but wait a minute, I'm saying "giving 2 pass-ups" like it's a bad thing; it's not and here's why: Everyone you recruit gives their first two sales as pass-us to you as well; and that continues infinite levels deep.  So where was I?  Starting out, you give two pass-up sales to your sponsor; now you're qualified to earn top commissions; recruit 5 more; help them recruit 2 each; and help those get 2 each; you now have 35 people in your pay team.

You just made $7,000 up-front & now have a $3,500 monthly residual income; continue this same trend, as wide as you want and infinite levels deep! Plus, you're paid a 10

% 

match on all "premier-derived" income from your personally sponsored pay team, even your 1st two pass-ups!


BTW, I didn't even touch on the fact that our online marketing premier products, included, are worth a good ~ $5,000+ on the open market; and yes, some join just for the products.

Basic Level

:

after 2 pass-up sales, pays you

$25 upfront com

mission

and then $25 residuals monthly.
Premier Level:

after 2 pass-up sales,

pays you $200 upfront co

mmission

and $100 residuals mon

thly

.

   

You

will also

get the biggest game changer of them all, the brand new, custom

WEBINAR &

SALES

–

FUNNEL; this is a very powerful tool! It's a very "sticky" & "interactive

site"

, housing a hig

hly

compelling webinar to send all your prospects to.  Wanna talk about "PASSIVE" income. This is going to be a "MASSIVE" game changer (click the IMAGE below)!


You will receive: Four Corporate Capture Pages.

You will receive the Corporate Replicated Site with your unique sign-up links and urls:

And you will be given access to the Neucopia PowerTeam private Facebook group which is jam-packed full of social media and organic internet marketing files and information to drive traffic and convert visitors like no other.  The PowerTeam literally provides so much information and internet marketing tricks-of-the-trade, it is literally worth the cost of the membership fees just in itself.

There are two Signup Options (no exhausting upselling or bait-n-switch come get-me deals):


A)

Basic Level

:

$49.95/m

o

membership (no sign-up fee)

B)

Premier Level: $169.95/mo membership + ($100 sign-up fee)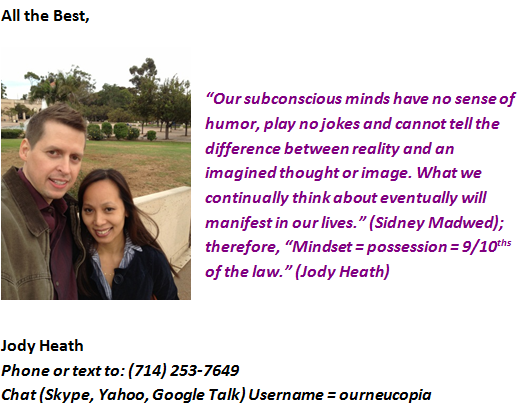 This is my Neucopia Facebook/Business page. I would greatly appreciate it
if you would like us by clicking the "Like" button (in this box):
"By Jody Heath"
Author: Jody Heath
Google Author Markup: Google
Google Publisher Markup: Find us on Google+